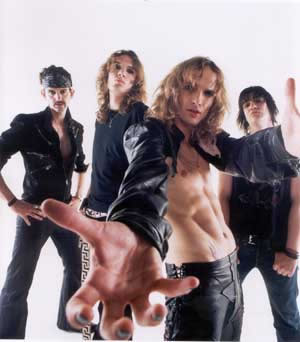 Difficulty: Easy
Composer – The Darkness
Where to find this song – Permission To Land track # 4
Release Date – August 5, 2003
The Band:
Justin Hawkins – vocals, guitar, keyboards
Dan Hawkins – guitar
Frankie Poullain – bass
Ed Graham – drums
The Bio:
Formed out of Norfolk, England, in 2000, The Darkness captures a strong
sense of metal and spandex that we all seemed to forget about in the
'80s. Frontman Justin Hawkins' sense of musical style has gone so far
as to already be compared to Van Halen's original frontman David Lee
Roth. With their on-stage antics and acrobatic guitar work, The Darkness
is sure to set sail with the listeners who missed the flamboyance of
the hair bands. The Darkness do indeed live up to the traditional notions
of what a true rock group should be: lucid, precise, and their don't-bore-us-get-to-the-chorus
mentality. Their music is driving, and the band definitely projects
homages to Kiss, Judas Priest, and Queen. Hawkins sings with the voice
of a castrato, much like Freddie Mercury did from Queen.
Verse

There will be a few details to look at with this riff. Notice that
you will focus on mainly the same chords over and over, but there are
a few variations in between measures. The first and fifth measures are
identical. The second and sixth measures are identical, and the third
and seventh measures are also identical. Now, the fourth and eighth
measures are mostly alike, with a small difference in the end of the
eighth measure. Notice that in both the fourth measure and the last
measure you will have a "vibrato." A "vibrato" is
when you rapidly shake the string being played, while holding the appropriate
note. You will be doing this on the fourth fret on the "low E"
string in both cases. Most of the rest of the riff will be played using
your 1st finger and 4th finger. Play around on the fourth and eighth
measures with your 3rd finger to play the fourth fret on the "low
E" string. From there you should have no problem using the appropriate
fingers. Enjoy!
Riff Resources
Complete Transcription
To "I Believe In A Thing Called Love" (PDF)
Complete
Transcription To "I Believe In A Thing Called Love" (Power
Tab)