Here is the riff with the suggested fingerings:
Here it is much slower:
Ready To Play More Songs From The 1960s? Download 1960s Songbook Today!
Whether you perform in public or for just a few friends, you need to have an arsenal of songs on command at any time, and with "60s Songbook" you'll have instant access to over 100 of the most requested rock songs from the 60s. Not everyone wants to sit at a computer all day long, so my completely downloadable reference catalog provides you with the perfect variety of songs to pick from and take with you to your next performance.
Chord & Lyric "Cheat Sheets" Equals Instant Play-ability
These songs are the "bar staples" that everyone wants to hear. You can perform them on your acoustic guitar or jam them out on your electric. Our versions are instantly playable. You can play them as a solo artist or even with a band.  Each song is in PDF and will open on any computer! They contain the complete chords and lyrics to every song and are guaranteed accurate.
Why This Collection Is Perfect For You
These are the songs you simply MUST know…
Completely accurate song renditions…
Easy to read – perfect for live performances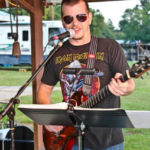 I can remember a lot of my songs and, after awhile, I don't really need the chords, lyric, and tab anymore. On the other hand, I'm no spring chicken anymore, and sometimes it takes awhile for my mind to absorb and keep up with all of the songs. 60s Songbook is there to help jog my memory and it's there to allow me to play more songs not already committed to memory.
One thing that I don't want in my music is a song that spans page after page. Really, all I want is one page. Two pages are alright sometimes for longer or more complex songs, but no more than that. Also, I want to be able to see it, too. My eyes aren't what they used to be and I don't want to wear my reading glasses on stage. Besides, I don't want to make it so evident that I'm looking at my book from time to time when I'm performing.
All of this is what I had in mind when I created 60s Songbook. I have a few set standards for my songs:
It must be correct
It must be legible
It must be compact
It can't be confusing (I've got to play it in real time and I don't have the time to double check the lyrics or chords)
Look, I don't expect a perfect performance every time, but I want the tools at my disposal to be able to do my best. 60s Songbook allows me to stay on track.
With "60s Songbook" You'll Get Over 100 Songs In PDF:
Simply download the files, print them out, and you'll be ready for your next performance! Here are the songs:
My Girl – The Temptations
Twist And Shout – Isley Brothers
Ring Of Fire – Johnny Cash
White Room – Cream
Mr. Tambourine Man – Byrds
Proud Mary – Creedence Clearwater Revival
The Midnight Hour – Wilson Pickett
Sunshine Of Your Love – Cream
Purple Haze – Jimi Hendrix
When A Man Loves A Woman – Percy Sledge
I Saw Her Standing There – Beatles
Yesterday – Beatles
Somebody To Love – Jefferson Airplane
I Want To Hold Your Hand – The Beatles
Reach Out, I'll Be There – Four Tops
Gimme Some Lovin' – Spencer Davis Group
Ain't Too Proud To Beg – Temptations
All Day And All Of The Night – Kinks
Mony Mony – Tommy James & the Shondells
Runaway – Del Shannon
We Gotta Get Out Of This Place – The Animals
Cinnamon Girl – Neil Young
I'd Rather Go Blind – Etta James
Eight Miles High – The Byrds
For Your Love – The Yardbirds
Wild Thing – The Troggs
Crimson and Clover -Tommy James and the Shondells
Crazy – Patsy Cline
A Change Is Gonna Come – Sam Cooke
I Can't Explain – The Who
The Sound Of Silence – Simon And Garfunkle
Fire – Jimi Hendrix
House Of The Rising Sun – The Animals
Unchained Melody – The Righteous Brothers
River Deep Mountain High – Ike and Tina Turner
Summer In the City – Lovin' Spoonful
Wonderful World – Louis Armstrong
In My Life – The Beatles
(I Can't Get No) Satisfaction – The Rolling Stones
Bad Moon Rising – CCR
People Get Ready – Curtis Mayfield and the Impressions
Jumpin' Jack Flash – The Rolling Stones
White Rabbit by Jefferson Airplane
Time of the Season – The Zombies
Stand By Me – Ben E. King
The Weight – The Band
Louie Louie – The Kingsmen
Sittin' On The Dock Of The Bay – Otis Redding
Gimme Shelter – The Rolling Stones
My Generation – The Who
She Loves You – The Beatles
Son of a Preacher Man – Dusty Springfield
You Really Got Me – The Kinks
Space Oddity – David Bowie
Whiter Shade Of Pale – Procol Harum
Paint It Black – The Rolling Stones
Whole Lotta Love – Led Zeppelin
God Only Knows – The Beach Boys
The Letter – Box Tops
The Wanderer – Dion
Under The Boardwalk – Drifters
Touch Me – Doors
Gloria – Them / Shadows Of Knight
Runaround Sue – Dion
Crying – Roy Orbison
I Got You (I Feel Good) – James Brown
California Dreamin' – The Mamas And Papas
I Heard It Through The Grapevine – Marvin Gaye
Like A Rolling Stone – Bob Dylan
Suspicious Minds – Elvis
Sympathy For The Devil – The Rolling Stones
All Along The Watchtower – Bob Dylan/Jimi Hendrix
Good Vibrations – The Beach Boys
A Day In The Life – The Beatles
Respect – Aretha Franklin
Light My Fire – Doors
Born To Be Wild – Steppenwolf
Magic Carpet Ride – Steppenwolf
The Tracks Of My Tears – Miracles
For What It's Worth – Buffalo Springfield
Strawberry Fields Forever – Beatles
Nights In White Satin – Moody Blues
Suite: Judy Blue Eyes – Crosby, Stills & Nash
Revolution – Beatles
Surfin' USA – Beach Boys
Blowin' In The Wind – Bob Dylan
Will You Love Me Tomorrow – Shirelles
Georgia On My Mind – Ray Charles
The Times They Are A'Changin' – Bob Dylan
Do You Believe In Magic – Lovin' Spoonful
Born Under A Bad Sign – Albert King
Bend Me, Shape Me – The American Breed
Sugar Sugar – The Archies
The Thrill Is Gone – B.B. King
Piece Of My Heart – Janis Joplin
Can't Find My Way Home – Blind Faith
Summertime Blues – Blue Cheer
Maggie's Farm – Bob Dylan
Positively 4th Street – Bob Dylan
Born On The Bayou – CCR
Fortunate Son – CCR
And Even More!
Bonus Content "Greatest Rock Guitar Of The 1960s"
With "Greatest Rock Guitar Of The 1960s" I'll present to you the most detailed lessons on over 50 of the greatest rock songs of the 1960s.
Learn through video, tablature, audio, diagrams, pictures, and easy to follow instructions.
Tips and tricks on how to play each guitar riff. Go beyond just the music and tab and find the easiest and most effective way to learn the riff.
Valuable resources that are printable and downloadable. You can even make your own reference manual.
Accurate transcriptions ensure you'll be able to play along note for note.
Riffs are broken down to easy to digest "chunks" that allow you to master each part of the riff separately and then put it all together.
Learning these riffs should be fun and not tedious, so I've made sure that you'll enjoy yourself along the line. I feel that, with a little hard work, anyone can learn how to play these great riffs.
Songs include…
"Lucy In The Sky With Diamonds" by The Beatles
"Classical Gas " by Mason Williams
"Star Spangled Banner" Jimi Hendrix Live at Woodstock
"Day Tripper" by The Beatles
"Space Oddity" by David Bowie
"Wipeout" by The Surfaris
"Susie Q" by Creedence Clearwater Revival
"The Wind Cries Mary" by Jimi Hendrix
"Something" by The Beatles
"Walk Don't Run" by The Ventures
"Wham" by Lonny Mack
"Strange Brew" by Cream
"White Room" by Cream
"Walk Don't Run" by The Ventures
"Riders On The Storm" by The Doors
"White Rabbit" by Jefferson Airplane
"In My Life" by The Beatles
"Knockin' On Heaven's Door" by Bob Dylan
"Crosstown Traffic" by Jimi Hendrix
"People Are Strange" by The Doors
"Sunshine Of Your Love" by Cream
"Come Together" by The Beatles
"Cocaine" by Eric Clapton
"The Weight" by The Band
"Five To One" by The Doors
"Back In The USSR" by The Beatles
Over 50 In All!
Imagine yourself at a party or maybe at school, your guitar in hand, surrounded by people enjoying your music, and even asking you to play more for them. People always appreciate good music, and you may just find yourself the center of attention among your friends.
Here's How To Get Instant Access…
Download 60s Songbook and all that I've mentioned for just a one-time payment of 14.95. There's absolutely no waiting at all, so once you place your order you will be immediately directed to an exclusive online archive that will give you immediate access to everything. If you aren't completely satisfied with the collection, just let me know and I'll cheerfully reimburse your payment. No hard feelings! Just click the buy button below to get started…
What Are You Waiting For? Only 14.95. Order Today:
Sincerely,
Kenny Mann
Guitar Alliance