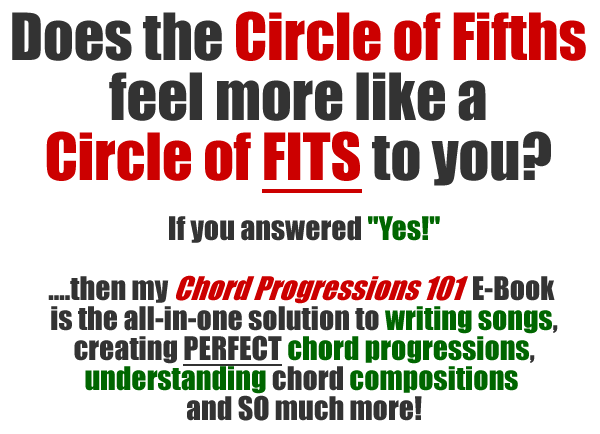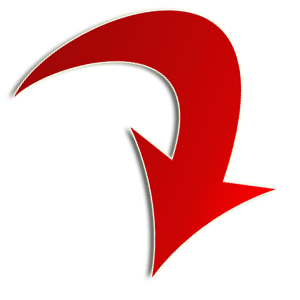 This Exclusive E-Book Includes:
420 "Ready-Made" Chord Progressions

* Includes common progressions AND exotic, beautiful progressions that you've probably never thought of using!

FIVE Formulas That You Can Easily Alter To Create Even MORE Progressions

This E-Book covers the following progressions:

Major Progressions – I, ii, iii, IV, V, vi, vii*
Major 7th Progressions – I, ii, iii, IV, V, vi, vii
Major 6th Progressions – I, ii, IV, V
Major 9th Progressions – I, ii, IV, V, vi
Natural Minor Progressions – i, ii*, III, iv, v, VI, VII

165 Page E-Book Teaching You HOW To Use The Circle of Fifths The EZ Way!

I always try to make even the most complex of concepts super simple, so even though I have already done ALL of the leg work for you, you'll still learn exactly how to use the Circle of Fifths without any hassle or confusion whatsoever.

Tab-Based Diagrams of Every Chord Used In This E-Book

Every chord that is used in this E-Book is provided on a staff sheet, separated by chord grouping. All seven chord groups include a variety of chord names.

* Majors, minors, sharps/flats, major 7ths, 6ths, major 9ths, diminished chords and more!

It's Not JUST About Chord Progressions Either

By understanding the Circle of Fifths, the sky is the limit. You'll also learn how to use the Major and minor scales associated with the progressions, understand how keys are constructed, and neat little "guitar-only" tricks like note substitution!

No Music Reading Knowledge is Necessary!

You don't need to understand music theory to use the Circle of Fifths. If you understand basic mathematics and what upper and lower case means that's really ALL you need to know. Since I already provide you with every logical combination, you can choose to explore how we create the chord progressions we do – or simply skip to the end and start playing chord progressions.

No "Circle of Fits" At All!

Some instructors make the Circle of Fifths so confusing because they try to over-explain it. All you really need to know to start creating chord progressions are:

(1) the formula to use…
(2) the key you want to start with…

…and everything else is just "place chord here" to create a progression.

Why is it so important to learn the Circle of Fifths?
Visualization of the Circle of Fifths (and Fourths) will help you to identify key signatures, find related keys and remember the order of sharps and flats in key signatures. It is a valuable tool that helps you to see the fundamental relationships that music is based upon.
If you are a songwriter, enjoy discovering new chords that sound great together – or just like getting your hands on chords that you might've never used before – then you'll NEVER need to fumble around with chord progressions again. I have an assortment for you to choose from!
This E-Book is the answer to all of this and more!
(and it's much easier than you might think…)
Step 1: Pick ANY Chord.

It doesn't matter if the chord is Major, minor, sharp, or flat because you can't go wrong!

Step 2: Pick ANY Formula.

Choose any of the 7 different formulas that you can use to write the perfect song.

Step 3: Arrange It.

Arrange/re-arrange progressions to fit the sound you are looking for without any hassle!

You can't lose with our 100%, ironclad, money-back guarantee
I'm so confident that you'll be nothing less than impressed with "Chord Progressions 101", I'm going to give you 60 days to use the zip drive. I'm going to take away all of the risks.
Test drive it for 60 days. If for any reason you're not absolutely thrilled at the end of your trial period, just let me know and I'll cheerfully send you a 100% refund of your investment. No questions. No hassles.
Just click the "add to cart" button below to get your "Chord Progressions 101" USB flash drive for only 21.00: