The entire course is delivered to you via a USB flash drive. You'll learn how to play a variety of beautiful fingerstyle songs note-for-note. It includes the full music notation and tab, too.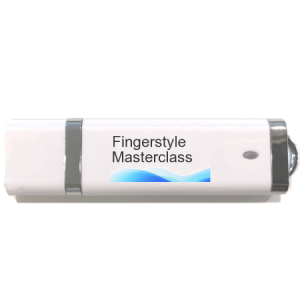 Songs include:
Ain't No Sunshine by Bill Withers
Air On The G String by Johann Sebastian Bach
Andantino by Ferdinando Carulli
Bad Feelin' Blues by Blind Blake
Because by The Beatles
Blackbird by The Beatles
Blowin' In The Wind by Bob Dylan
Classical Gas by Mason Williams
Dee by Randy Rhoads
Don't Think Twice It's All Right by Bob Dylan
Dust In The Wind by Kansas
Estudio 2 by Fernando Sor
Etude In E Minor by Franciso Tarrega
Fire And Rain by James Taylor
Goodbye Blue Sky by Pink Floyd
Greensleeves (traditional)
Imagine by John Lennon
Landslide by Fleetwood Mac
Let It Be by The Beatles
Leyenda Asturias by Isaac Albeniz
Moonlight Sonata by Ludwig van Beethoven
Mr. Conductor Man by Big Bill Broonzy
Ode To Joy by Ludwig van Beethoven
Silent Lucidity by Queensryche
The Boxer by Simon And Garfunkel
Variations On A Theme Of Mozart by Fernando Sor
Yesterday by The Beatles
You've Got A Friend by James Taylor
Sample Lesson (From Estudio 2 by Fernando Sor)
You can't lose with our 100%, ironclad, money-back guarantee
I'm so confident that you'll be nothing less than impressed with the product, I'm going to give 60 days of access and I'm going to take away all of the risks.
Test drive it for 60 days. If for any reason you're not absolutely thrilled at the end of your trial period, just let me know and I'll cheerfully send you a 100% refund of your investment. No questions. No hassles.
Just click the "add to cart" button below to get the "Fingerstyle Masterclass" USB Flash Drive for only 34.00:
Sincerely,
Kenny Mann