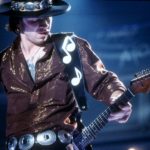 Do you want to be able to wail like blues greats such as B.B. King, Eric Clapton, or Stevie Ray Vaughan, but no matter how hard you try, it just doesn't come out right? At times you might even wish that you could visit the mythological crossroads that Robert Johnson made famous.
My  "Guitar Mojo" newsletter will show you how to play blues guitar like the pros. Each week I'll send you exclusive blues guitar lessons that will instruct, inspire, and challenge you.
It's totally free and you an unsubscribe at any time. I won't share your e-mail address with anyone else- nor will I assault you with advertisements. There is no risk to you, so sign up today:

What's A Mojo?
As legends go, many famous blues players were said to possess powerful mojos given to them from a variety of sources. These sources could include a witch doctor or a fellow blues man. The mojo itself could be just about anything, from a bag full of "magic powder" to a rabbit's foot. It was simply a lucky charm that many believed gave them that "magic touch" when it came to playing blues guitar.
Here's A Example Of What You'll Discover With The "Guitar Mojo" Newsletter: