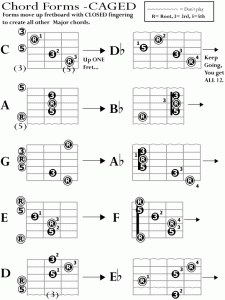 CAGED gives you a way to think about the fret board that merges scales with chords and arpeggios. Basically there are five stationary position scales that correspond with the five chord shapes.
CAGED is not an invention. Nor is it something made up to sound fancy and fool you.
CAGED is a system that is derived from the unique tuning of the guitar. It occurs naturally .
CAGED gets it's name from the primary chord shapes found on the guitar. They are C, A, G, E, and D. These 5 basic chord  shapes are the key to total fretboard domination. Every other chord, scale, and arpeggio can be built from  5  basic shapes.
Did You Know…
Some speculate on the origins of CAGED, that the reason there are exactly five chord shapes, five scale shapes, and five arpeggio shapes, for full coverage of the guitar's neck, is because there are only five unique strings on the guitar: E, A, D, G, B, and a second E.
CAGED has also been called "EDCAGE" in  classical guitar.
Yet, another name used in some jazz circles is "BAGED". The name is to refer directly to the string on which the ground note of the position fell.