Discover The Secrets To Playing Great Sounding Slide Guitar – Get Killer Slide Tone, Sustain, Vibrato,  And Accuracy
From: Kenny Mann (Creator of Guitar Alliance)
Have You Always Wanted To Play Slide Guitar, But Have No Idea Where To Start?
Does Your Slide Guitar Playing Sound Bad, No Matter How Hard You Try?
Do You Want To Be Able To Play Incredible Slide Guitar To Songs Such As Freebird, Statesboro Blues, And Bad To The Bone?
If So, I'd Like To Show You A Thing Or Two…
If this sounds like you, then I'd like to tell you a little bit about my brand new course called "Beginner Slide Guitar". It's perfect for the electric or acoustic player who want to add something truly special to their playing.
Watch the video below to  learn answers to frequently asked questions about slide guitar:
Did You Know? You can use many objects as a slide; from bottlenecks, lighters, pipes, or just about any tube like object that you can fit around a finger.
Slide Guitar Can Sound Great On Just About Any Guitar
With My "Beginner Slide Guitar" Course You'll Discover…
The basic use of the slide
How to eliminate extra, unwanted noises
How to get a much desired soul-wrenching slide vibrato
How to play in correct pitch- get rid of those out of tune notes
How to play slide on both acoustic and electric guitars- any guitar will do
How to avoid "stinker" slide- I'll reveal to you the tricks to keeping your slide playing alive with feeling
"Beginner Slide Guitar" Is A Comprehensive Course – Over 30 Lessons
Each lesson includes:
A video that details what you are to do
 A new slide trick or lick to learn
Tab notation
Plus,  the course continues to grow. I add new lessons to the course on a regular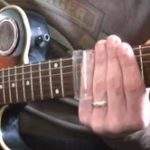 basis in response to student desires and feedback. It's truly a living breathing course!
With Beginner Slide Guitar you'll explore many facets of playing slide guitar and learn from real world examples such as:
Bad To the Bone by George Thorogood
Ballad Of Curtis Loew  by Lynyrd Skynyrd
One Way Out by The Allman Brothers
Bad Feeling Blues by Ry Cooder
And more!
Slide guitar is fun to play and can be easy to learn with Beginner Slide Guitar.
You Don't Have To Spend A Fortune
Guitar lessons can be very expensive, but "Beginner Slide Guitar" is totally affordable. Just pay your low membership fee of 17.00 and you'll get lifetime access to Beginner Slide Guitar. That includes lessons added to the course in the future, too.
Visit the course every day or once  a year. It's up to you! You can progress at your own rate. You can be assured that the course will be there for you when you need it.
You can't lose with my 100%, ironclad, money back guarantee
I'm so confident that you'll be nothing less than impressed with the program, I'm going to give 60 days of access and I'm going to take away all of the risk. Test drive the program for 60 days. If for any reason you're not absolutely thrilled at the end of your trial period, just let me know. I'll cheerfully send you a 100% refund of your investment. No questions. No hassles.
Lifetime Access Only 17.00:

You'll get instant online access upon completion of payment. We accept all major credit cards as well as Paypal. All payments are made over a secure server, so your information is safe. We will not share your personal information with anyone else.
Sincerely,
Kenny Mann